Every day, new electronic innovations are flooding the commercial market with new conveniences that are designed to make life easier. And in electronics, especially for communications, flex circuit PCB plays a core role in contacting and conveying signals, so choosing a suitable and reliable manufacturer is extremely important.
May some people know, Allpcb specialized in manufacturing flexible PCB, so compared with Allpcb, how does Bestfpc create the perfect solutions for our customers?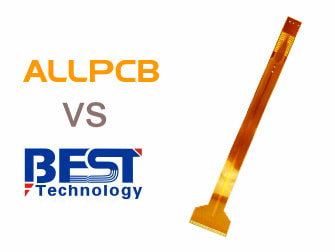 1. FPC Manufacturing Capability
With over 16 years of manufacturing experience and professional knowledge, Bestfpc fabricates products for more than 1200 customers and our products are covering in every fielding ranging from consumer electronics, medical electronics, scientific research and education to military industry, we are so confident that we are expert and leaders in the flexible circuits industry, and this enables us to be one of most reliable One-Stop fast solution providers in Asia. In addition, we have entire production equipment from raw materials to packaging, combined with our ability to manage projects in an innovative and creative way, this makes us deal with any and every technological or engineering challenge.
2. Flexible PCB Lead Time
Fast and efficiency are one of our company's core values, this prompts us to do the right things and then do things right so that we can complete any project quickly & efficiently. With this belief, we promise delivery on time to help our customers seize every opportunity to win the market. In hardware, we have numerous automatic production machines that ensure fast manufacture and on-time delivery. By the way, we offer quick turn prototype service within 24 hours, which helps customers save much time and cost during the R&D period and win the market opportunity.
3. Quality Control Of Flex Circuits
Quality is a critical point of a product, so Bestfpc always takes a high attention to the quality inspection process. Bestfpc set 9 inspection processes in total during a production run, and equipped with AOI, X-ray, two-dimensional measurement, flying probe test, auto-testers and some other inspection machines to ensure the good quality of the product. Those automatic devices can minimize the interference of human factors, as well as ensure the high-efficiency. Meanwhile, we have a professional FAE engineering team who is mainly responsible for trouble shooting and failure analyzing when some debugging happened, then providing the best solutions to customers in a very short time.
And in another way, Bestfpc was certificated by ISO13485, ISO9001, IATF16949, UL, RoHS, REACH and SGS quality control management, we strictly follow the IPC standard and quality system operation to make sure all production processes are under monitoring and compliance with ISO9001. Our complete quality control system allows all the raw materials and production data can be traceable within 3 years. Product traceability ensures a product satisfies customer requirements.
4. Extensive Supply Chain And Subcontractors
By means of years of manufacturing experience, our extensive supply chain and subcontractors support us to establish business relationships with numerous of leading manufacturers in PCB industry, which offers us a wide range of sources including electronic components, various substrate materials, defense, high-tech technical and more. Whatever electronic component, special material, or unusual part you need, we are able to find and source it for you quickly and won't affect your schedule. In any way, Bestfpc's ultimate aim is to save time and money and win the market for our customers!!
5. Service
Bestfpc is devoted to offering One-stop service for our customers with 24/7 full online service, we commit to replying within 2 hours for any inquiries. Each customer has a unique assistant to follow up on the orders, update the status every day and arrange the shipment on time when the product is finished.
What we provide are but are not limited to FPC (single layer, double layer, dual access, rigid-flex circuits, multi-layer) design, manufacturing, ODM, OEM, FPC assembly, box building… Meanwhile, we have quick-turn prototyping service, low volume service, mass production service, and we specialized in complex products, we are always insisting on doing what is hard and right.
Allpcb is a good and successful company in flexible PCB, and it has many aspects that worth us to learn, such as parallel advanced equipment, intelligent services and status online checking…
Bestfpc is still in growing up, but we are so confident that we can win the market for our customers and achieve a win-win finally. Trust us, we are the best and we will do our best to service you. Contact us if you have any inquiries.