In the production of FPC, normally we need to add different stiffener to meet the total thickness or hardness, such as PI stiffener, FR4 stiffener and stainless steel stiffener. But the FR4 stiffener after laminated is very similar to the rigid-flex PCB, especially there are also have drilling holes in FR4 stiffener.
Do you know how to identify FR4 stiffener and rigid-flex PCB? Please refer to the below picture. On flex PCB, you can see there are many PTH holes, maybe these boards are need to insert connectors and connect it to other products. So they need the hardness in this area.
From the left sample, we added the FR4 materials on bottom side, there are also have vias on stiffener, but no copper in vias, so this is FR4 stiffener. It can only increase the hardness of flex. From the right sample, the green part are still FR4 materials, but we plated copper for all vias, so it's a rigid-flex PCB.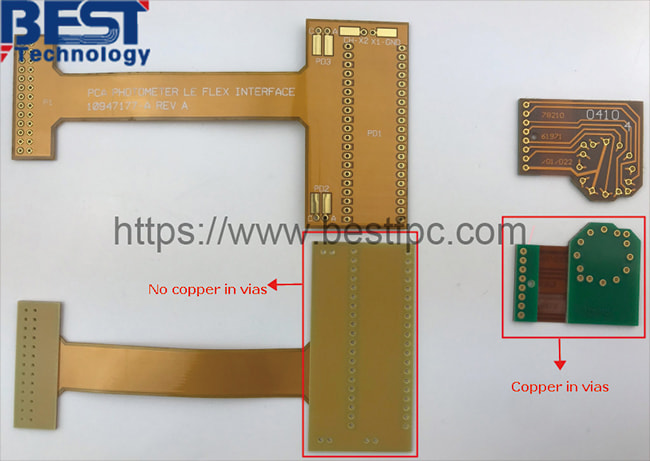 Rigid-flex board has many production processes, high production difficulty, low yield rate, so its price is relatively expensive and the production cycle is relatively long than flex PCB. If the FPC with FR4 stiffener can meet your requirements, then it would be a better choice for you.
If you have any other question about stiffener or rigid-flex PCB, please feel free to contact us at sales@www.bestfpcs.com