Due to Flexible boards are suitable for more and more fields with their unique advantages of lightness, thinness and compactness. There are also many boards that need to be assembled components or various signal transmission, so the requirements for impedance are increasing.
Normally there are four factors will affect impedance. 1), DK Value. 2), copper thickness. 3), copper trace and space. 4), dielectric layer thickness (PI&coverlay). You can know more details from below picture.
Er1: DK value for base material, the DK value of different brands' materials and thickness are not the same, the normal range is 3.15 to 4.2
T1: copper thickness, this is the finished copper thickness, it's marked 30um in below table, that's means the base copper thickness will be around 18um.
W1: copper trace width, and S1 is copper trace space. Trace width and space are important for impedance.
H1: dielectric layer thickness, that is the PI thickness of the base material, PI thickness with adhesive thickness for adhesive materials.
W1&S1: copper width and space.
C1/C2/C3: coverlay thickness. 1/2mil coverlay is 28um, 1mil coverlay is 50um.
CEr: DK value for coverlay, 1/2mil coverlay is 2.45, 1mil coverlay is 3.4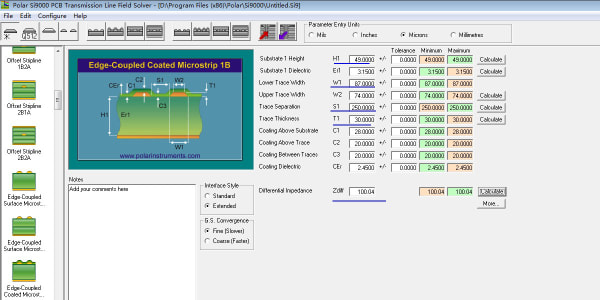 Normally customers has required impedance value and total board thickness (stack up). So what can we do to meet the customer's required impedance?
The first step, adjust copper trace and space to meet impedance, the smaller the trace width, the greater the impedance. Our minimum copper trace and space is 2mil, if we still can not meet impedance when copper trace adjusted to 2mil, then we have to move to second step.
The second step, normally the reference layer of impedance is copper foil, we can change the copper foil to grid copper, because the greater the grid spacing, the greater the impedance value.
The third step, if the above two steps still cannot meet the impedance requirement after adjustment, we need to communicate with the customer to adjust the stack up which included copper thickness, dielectric layer thickness and coverlay thickness.
Finally, we can calculate impedance and adjust copper traces for you if you need our service. If you would like to know more details, please contact us sales@www.bestfpcs.com