temperature in -200℃~426℃.
Polyimide(PI) is very common in Flexible Board, it exist in base material, coverlay, even stiffener. Maybe some people feel confused about it, so today let discuss what's the difference between them?
The difference in function:
PI base material: For FPC base material, it have two types, adhesive base material or adhesivelesss base material. No matter for adhesive base material, or adhesivelesss base material, Polyimide(PI) is essential.
PI coverlay: Its main function is used for circuit insulation.
PI stiffener: Often applied to the area on the back of the FPC goldfinger. The PI stiffener is used to increase the thickness and hardness of the finger, which is easy to insert and remove.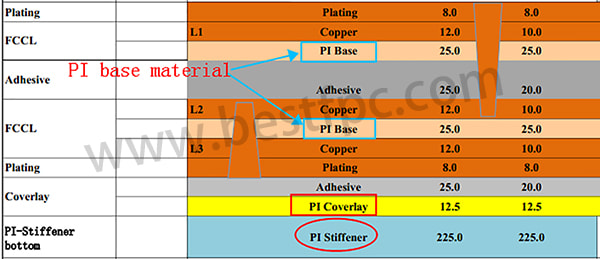 The difference in thickness:
PI base material: For the PI in base material, 1/2mil, 1mil are very common, its thickness even can arrive 4mil, 5mil(Dupont adhesivelesss PI material).
PI coverlay: On coverlay, the PI thickness have two choice, 1/2mil or 1mil.
PI stiffener: For PI stiffener, the thickness have many option according to customer's need, such as 0.075mm, 0.1mm, 0.125mm, 0.15mm, 0.175mm, 0.2mm, 0.225mm, 0.25mm.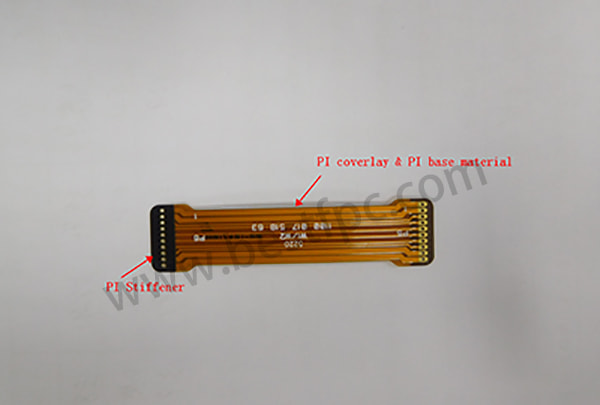 The difference in color choice:
PI base material: No choice for option.
PI coverlay: PI coverlay have three color, yellow, white and black.
PI stiffener: It will change with the thickness change. The thicker it is, the darker it is. For example, 0.075mm PI stiffener looks like brown, 0.25mm PI stiffener more close to dark.
Wish above information is helpful for you. If you have any question, pls feel free to contact us.