Have you ever been have trouble in selecting the solder mask and coverlay when you are design a flex pcb? Solder mask and coverlay has the same basic function of insulating, do you know the difference between solder mask and coverlay? Is it possible to make the solder mask and coverlay overlap together for insulating? Do you think the flexible solder mask is the same as rigid printed circuit solder mask?
1)Design: Actually, coverlay is widely used for flexible printed circuit board. Because of most of flex pcb will need to add the PI/FR4 stiffener and EMI shield. But if there are BGA pads and dense solder mask opening area, limits the minimum size of openings and the minimum web of material then can be retained between adjacent openings. I would like to share a coverlay and solder mask overlap together FPCB with you. The coverlay is applied first and the solder mask second with a slight overlap onto the coverlay to prevent any gaps in the combined layer. This kind of design have much higher requirements for our production to ensure your functional and reliable design. Below picture is a coverlay and solder mask overlay together FPCB, hope you will be interested in.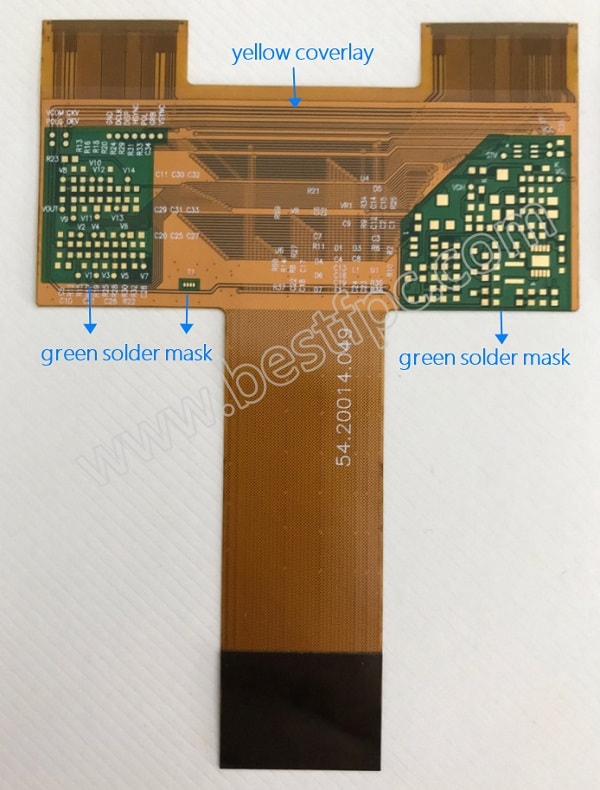 If the coverlay opening is square, the minimum size for coverlay is 0.6mm, and space is 0.25mm. Otherwise you need to print solder mask. If the coverlay opening is round, the mimimum size for coverlay is 0.25mm, and space is 0.15mm. Otherwise you need to print solder mask. Because too small coverlay webs will be easily damaged or broken during manufacturing process, and the limited of adhesive may not allowed for a good lamination. Coverlay openings may also exhibit a small amount of adhesive squeeze out into the openings. Then the resulting design rules for coverlay are significantly different than those for solder mask. Attached the coverlay square and round opening picture for your reference, please kindly check it.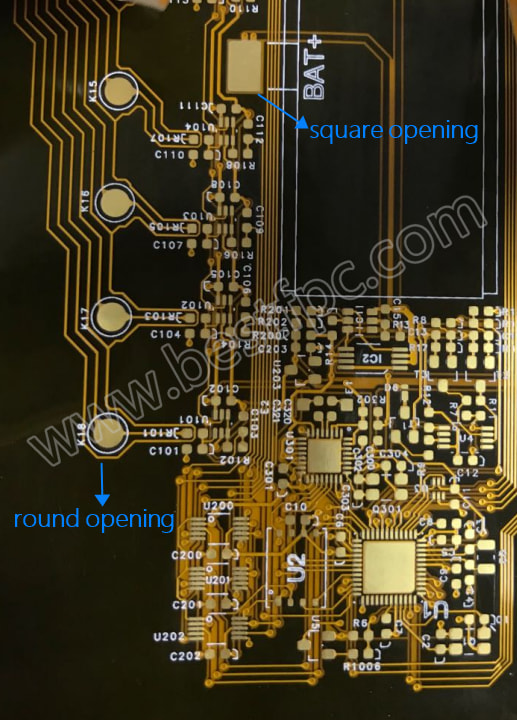 2)Thickness: Below is the pure green solder mask flexi pcb picture, it do not need to add the stiffener for PCBA (SMT assembly), and there are no BGA area, why it choose to use the green solder mask instead of coverlay? The normal coverlay thickness is 27.5~50um. And the solder mask thickness is 8~12um. Due to the customers need the ultra thin flex pcb. Then we suggest the customer to use the solder mask instead of the coverlay.
3)Color: The most popular coverlay color is yellow, we usually prepared the yellow, white, black coverlay in stock. Solder mask is available in a wider range of colors: green, black, white, yellow, etc. Please kindly note that the flex pcb solder mask is quite different to rigid pcb. The flex pcb solder mask cost is much higher than FR4 PCB.Because the flexible circuit board solder mask the withstand bending and high temperature is better than Rigid FR4 PCB. But the coverlay and solder mask for flex price is the same for us.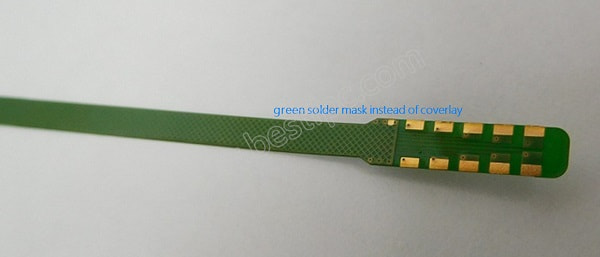 If you have any comments, warmly welcome you to contact us. Once we received your news, we will reply to you immediately. Looking forward to receiving your inquiry.