Recently, I was having a few discussions with someone very new to flex design. I was trying to be helpful and going through several things that are specific to flex and rigid flex design which should be considered as you start your first design. So, this blog is written for those of you who are new to flex and rigid flex, and may be unfamiliar with some of the terms that get volleyed around in conversation.
Flexible Circuit(flex pcb, pcb flex, flexible pcb, flex circuits):
A pattern of conductive traces bonded on a flexible substrate. There are several different substrates available, the most common being polyimide. Different than rigid materials, these laminates will have rolled annealed (RA) copper for improved flexibility.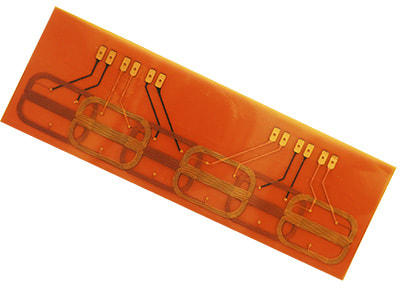 Rigid-Flex PCB(rigid flexible pcb):
This is a hybrid construction, using flex materials in areas that need to bend or flex and rigid materials in areas with dense component areas, surface mount components on both sides of the PCB, and applications with higher layer count, dense routing areas. Most common rigid materials can be incorporated into a rigid flex construction.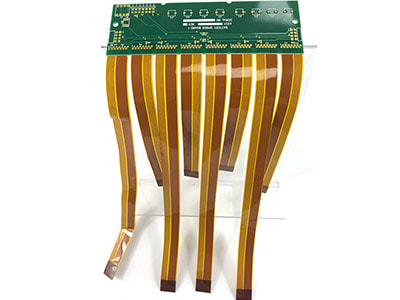 Flex Tails:
Typically refers to the areas of flex extended out past the rigid portions of the rigid flex. This may be one flex region, or several bands of flex areas that extend in various directions. Rigid flex is often used to solve packaging issues and connect on multiple planes. Flex tails enable this.
Banding:
Often used to accommodate a shorter flexible area if there is no room for a service loop. Instead of using the full width of the flex region between areas for each inner layer, the area can be divided into smaller bands of equal width for each inner layer, eliminating buckling and stress in that area.
Pouch:
This is a protective barrier material often used in rigid-flex fabrication. Often, this is a coverlay material used to protect exposed flexible materials during processing and is removed from the flexible portion of the board before shipment.
Coverlay:
A layer of insulating material applied to the flexible circuit to insulate the conductor pattern. Coverlay is typically a layer of polyimide with acrylic adhesive. Film based coverlay is much more flexible than cover-coat materials and highly recommended for dynamically flexing applications or flex that will have a tight bend radius. It is important to be sure to spec enough adhesive to fully encapsulate the copper conductors.
Bend Radius:
This is the ratio of the bending radius measured to the inside of the bend to the overall thickness in that area. Typically, recommendations for non-dynamically flexing designs is 10:1 for single and double-sided construction, and 20:1 for multilayer construction. These can be exceeded but should be evaluated carefully. Dynamically flexing applications should be discussed with your fabricator for a recommended stack up.
I always wrote a blog about how to calculate the bending radius of fpc.
Button Plate:
Fabrication process to selectively electroplate copper to vias and onto the pads capturing the vias. The remaining copper traces do not have electrodeposited copper, increasing the flexibility of the circuit.
I-Beam Effect:
Stacking conductors on adjacent layers directly on top of one another, increasing the stiffness of the circuit in the bend or fold areas. Staggered conductors are recommended if possible, to retain the maximum flexibility of the circuit.
I hope this helps explain some of the common terminology with flex and rigid-flex materials and design. Please reach out to me with any questions for further information!