Stiffeners are an important element in most flex designs and as such need to be engineered into the design and fully documented in the data set to ensure the form fit and function of the finished flex circuit parts. Some designs may have complex stiffener requirements that may impact the manufacturability of the flex circuits and may create added complexity in the component assembly process. For these designs we recommend that our customers consult with an engineering team to ensure the flex circuit is manufacturable and will meet your requirements.
Several days before, I received an rigid flex pcb inquiry form our customer, required to add a FR4 stiffener for golden finger area to meet the total thickness 0.3mm. Attached the picture as below, please kindly check it.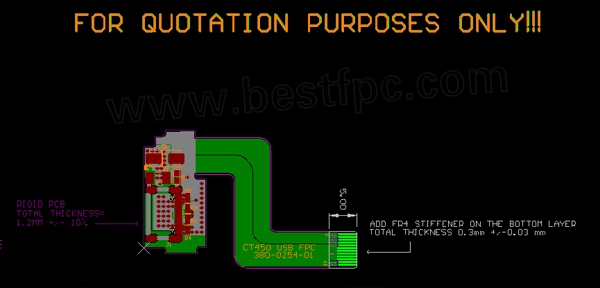 Do you know it is not available to add a FR4 stiffener for golden finger area? Because of the FR4 stiffener is too hard, it will be bad for golder finger connector to a ZIP( Zero Inserion Force). Because the FR4 stiffener tolerance is bigger than PI stiffener, if the stiffener thickness it a bit of big or small. It will be very easy to lead to the golden finger is not contact well and maybe because of it's too loose to fall out. Or it is not able to insert to the connector due to it is too thick.
Normally, we usually to use make it as 0.2mm,0.3mm,0.5mm(FPC+PI stiffener) for golden finger area. Attached one of our FPC +PI stiffener for golden finger picture for your reference, please kindly check it. Are you have similar design? It is 2layer red oil flex pcb. 1/2oz copper, 1mil PI, red solder mask instead of coverlay, board thickness 0.14mm, ENIG1u'', minimum copper plated 25um, white silk screen, 3M467 tape on bottom side. Add the PI stiffener on the golden finger area to meet 0.3mm total thickness.
By the way, are you have any trouble in sourcing the connector for match the FPC golder finger? If yes, pleas also feel free to contact us. We can according to your gerber file to advise the right connector part number for you. If you would like to learn more details, please free to contact us by e-mail sales@www.bestfpcs.com.