Electromagnetic interference (EMI) is associated with every electronic device we use nowadays. If you turn on your radio set and TV simultaneously, you will experience the noisy disturbance from TV interfering with the radio signal and vice-versa. We can also experience this when we board a plane and are asked to switch off the electronic devices by the crew. This is to avoid interference of mobile and electronic device signals with the plane's navigational signals. This is the reason why EMI/EMC study and analysis is important. Does your product's radiation disturb other devices present nearby?
EMI Shielding Design Challenges
As we all know, the flex circuit EMI shielding added will create multiple design challenges that require careful review to ensure a successful part number. All EMI shielding will increase both the total flex circuit board thickness and cost. The thickness increased is most often the critical issue. The normal EMI shield thickness is 22um, but we also has 10um thickness EMI shield. It can easily lead to the bending effect get worse. This creates a reliability/mechanical breakage concern. The added cost is also should concern. The
Shielding is often combined with other electrical requirements; the most common is controlled impedance. This further increases the flex thickness and compounds the challenge of meeting both the electrical and mechanical design requirements.
The flexible circuit industry has multiple solutions that can be applied, which will eliminate both the absorption and or radiation of interference noise.
What should we pay attention to EMI shield design to avoid the interfering?
Keep your signals separate. Keep high speed traces ( clock signals) separate from low speed signals, and analog signals separate from digital signals.
Keep return paths short.
Route differential traces as close as possible. This increases the coupling factor, bringing influenced noise into the common mode which is less problematic for a differential input stage.
Use vias wisely. Vias are necessary because they let you take advantage of multiple layers in your boards when routing. Designers must be aware that they add their own inductance and capacitance effects to the mix, and reflections can occur from a change in characteristic impedance.
Avoid using vias in differential traces. If you must, use an oval anti-pad shared by the two vias to reduce parasitic capacitance.
Singled sided FPC EMI shield is not working, you need design it as a dual flex pcb at least or double sided or multilayers FPC. Below is a dual flex pcb with EMI shield stack up.

7. Avoid sharp right-angle bends. Capacitance increases in the 45° corner region changing the characteristic impedance and leading to reflections. This can be mitigated by rounding right angles.
8. EMI minimum solder mask opening should be more than 0.8mm, and the solder mask area need to far away from the trace more than 0.2mm. Below design solder mask opening is less than 0.8mm, it will be not able to arrange production.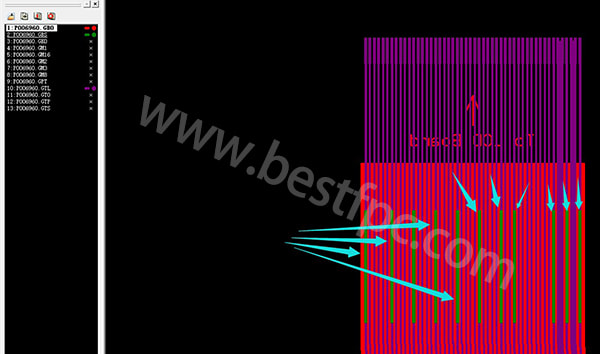 If you have any EMI shield design questions, warmly welcome you to contact us. Once we received your news, we will reply to you immediately.from----Rigid-Flex Blog