Flexible printed circuit board (FPC) is widely used in smart phones and LCD TVS. With the extensive use of electronic products in modern society, the demand for FPC circuit board increases greatly. More and more FPCS require connectors to be assembled at both ends, easy to connect with other devices or PCB board, and FPC can be bent in the middle, reducing the space required for assembly, see below FPC samples with different connectors.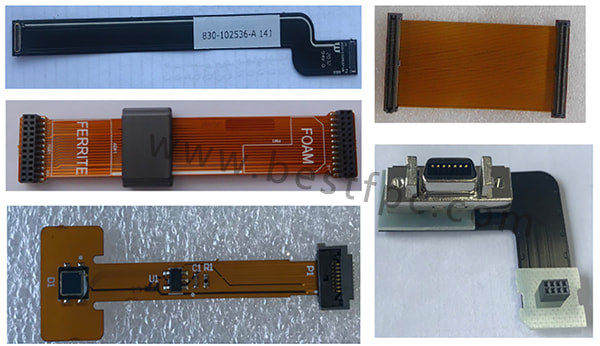 However, FPC assembly materials are not as easy as PCB, because FPC assembly requires stiffeners or fixtures on the bottom of component areas. Especially for assembling the pluggable connectors, it needs strong support and good connectivity. Do you know the different designs of the connector area and what are the differences between them?
The first and most common design, we add a FR4 stiffener on bottom side, drill holes on FR4 stiffener in the corresponding positions of the holes, noted that there is no copper for vias of FR4 stiffener, the function of FR4 stiffener is to support the component on top side, it often used for plug-in connectors.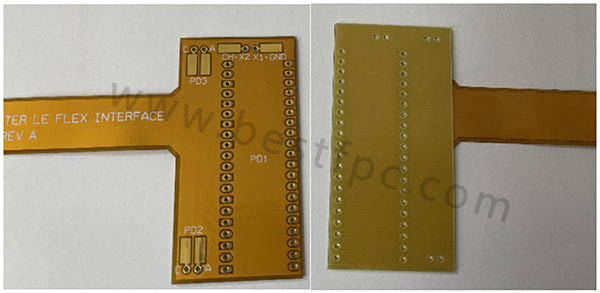 The second design is to make the stiffener as a single-sided FR4 PCB, there is one layer of copper, and copper plated for vias. Then laminated FPC and stiffener together, and filled with solder paste in vias when assembling connectors, the connector's pin and stiffener can also conduct except support function. However, the FR4 stiffener and FPC copper traces are not conductive.

The third design is to make it as a rigid-flex PCB, 2 layers FPC with 1 layer FR4 PCB. Although there are only vias on FR4 PCB, but the PCB through hole can be conductive to the FPC copper traces. This design has good stability and conductivity, but it is the most expensive, the cost is 3 times higher than the first design, and 2 times higher than the second design.

Do you have any FPC project need to do assembly together? Best Technology can provide FPC, FR4 PCB, Rigid-flex PCB and SMT service, please feel free to contact us at sales@www.bestfpcs.com