Rigid-flex PCB is a versatile technology. It can be widely used in various electronics, as well as sophisticated control systems. Due to the thin thickness, and low weight, it can reduce the overall weight of electronic equipment, the size of the exterior and provide much advantages to the end-applications.
Currently, Smart-devices and medical devices are the most important conventional applications of rigid-flex PCBs.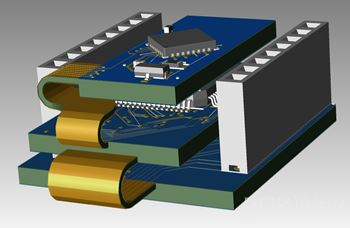 About Rigid-Flex PCB Design:
Different with normal FR4 rigid printed circuit board (PCB), rigid-flex PCB is composed by rigid PCB and flex circuit board, so when designing a rigid flex PCB, there are many factors that should be concerned because we should consider the rigid area design and flex area at the same time, such as line width, traces distribution, pad shapes, holes, size stability and so forth. Due to the difficult manufacturing process, designers cannot simply use the common lead pads design which used on rigid or 4-layer PCBs, and expect the same output amount/yield when rigid-flex PCBs are produced. Below are some basic notes that we should noticed in rigid flex PCB design.
Expansion and contraction of Polyimide
Compared to FR-4, Polyimide has a lower degree of dimensional stability. When the copper is etched, the flex-PCB material will contract, and Best Technology, as a rigid flex pcb supplier
company with extensive experience in production, is able to accurately estimate the amounts of materials needed. As such, they can ensure that the PCBs are machined to the correct size.
In generally, the bend area of trace should use round corners to avoid expansion and contraction of material, for example:

Enlarge PTH holes
For best results, the loop wire in plated through-holes on the flexible PCB should be progressively enlarged from a minimum. This will ensure that all wires to the soldering pad form tear-drop like connections. Additionally, the connections between wires should also be formed in a tear-drop like connection.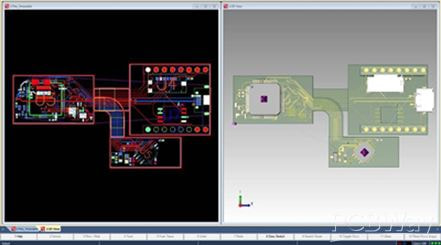 Maximum pad design
In accordance with the requirements of electrical requirements, the maximum value of the pad should be taken, the connection between the pad and the conductor should be smooth transition line, avoid using right angles. And independent pad should be added toe, so as to strengthen the supporting effect.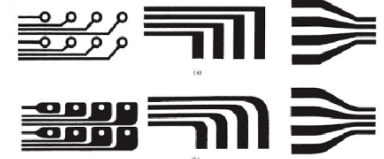 Make size stability
In order to ensure the stable of size of rigid flex PCB, add copper area to the design as far as possible.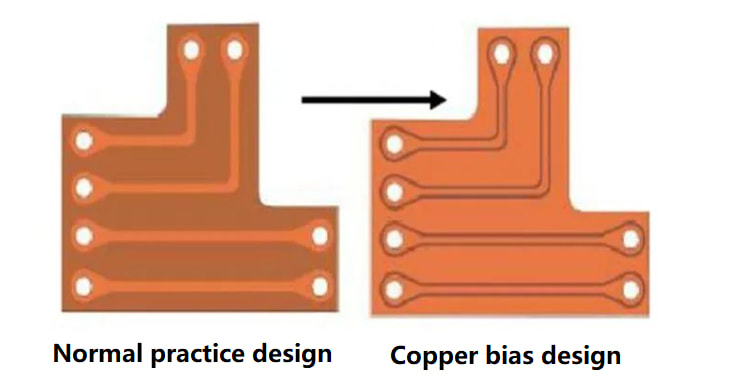 About Rigid-Flex PCB Cost:
For a most cost-effective perspective, it may to more appropriate to use flex printed circuit board instead of rigid flex PCB. This is because the difficult of manufacturing a rigid flex PCB is much higher than flex circuits, and the cost of fabricating and assembly often exceeds the cost range that the general designer can afford, they always only have limited budget.
In the meantime, seeking for a suitable manufacturer who has rich production experience and good capability in the early stages of the process operation is
essential for large-scale production of rigid-flex PCBs. This is one of the most important steps. For smart devices or medical electronics, cost may take a back seat to effectiveness. In this sense, it can accelerate the flexible circuit board in the market play a role.
Rigid-flex PCB costs are rising with the developments of demands. The major cause is the utilization rate of raw materials and the production process. Designers and manufacturing engineers can work together at the start of a project. This cooperation can help bring down costs and prevent overspending. Completing the design will be cheaper as a result.
Best Technology provide various size and parameters of rigid flex PCB, we can 100% ensure all rigid flex circuits are tested by electronic testing reflecting all Gerber data to ensure continuity and other data requirements, we are so confident that all of manufacture processes are in conform of IPC standard and ISO 9001 quality system. In the meantime, Best Tech offers quick turn and fast delivery service within 3-7days. Welcome to contact us at sales@bestfpc.com if you are interested in.